Lucky Deals at Honda
Posted on Mar 08 2019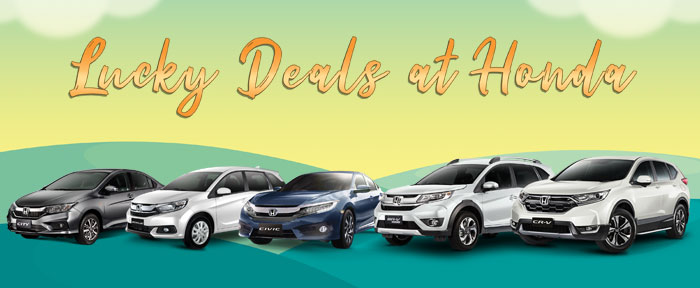 Get LUCKY with your new Honda now! Avail of our Low Downpayment Deals from March 1 to 31, 2019.
Mechanics and Guidelines:
Low Cash-out and Low Monthly Amortization All-In Bundle – Customers shall be entitled to acquire this Financing Schemes for payment terms of 15% and 20% downpayment and 36 to 60 months term.


Free One Month Amortization – applicable only to 15% and 20% downpayment with 60 months financing term. Free One Month Amortization is not applicable to Maybank of the Philippines.


Payment Terms – the Financing Programs are applicable for 15% and 20% downpayment with 36 to 60 months payment terms. This is subject to bank approval. Fifteen percent (15%) downpayment is not applicable to UCPB.


Customers are entitled to avail a free insurance package c/o BPI, RCBC, BDO, Robinsons Bank, Maybank, PNB, Sterling Bank, UCPB and Bank of Commerce (Security Bank, China Bank, PSBank and East West Bank DO NOT offer free insurance). Minimum amount financed required for BPI, RCBC, PNB, Robinsons Bank, Maybank, UCPB and Bank of Commerce is P500,000.00. For BDO amount financed required is P600,000.00 and for Sterling Bank eighty percent (80%) of amount financed.
ALL-IN PACKAGE includes 1-YEAR COMPREHENSIVE INSURANCE with ACTS OF NATURE, 3-YEAR LTO REGISTRATION & CHATTEL MORTGAGE FEE. Low Cash-Out, Low Monthly Amortization, and Free One Month Amortization All-in Bundle Financing Support Promo are subject to approval of bank partners. Shipping cost to provincial dealerships is not included.
For more details about LUCKY DEALS at Honda, visit us now !
See posters and print ads for more details. Promo duration is from March 1 - 31, 2019 only.
Per DTI-FTEB Permit No. 3315 Series of 2019. Colors and specifications may vary from actual unit..